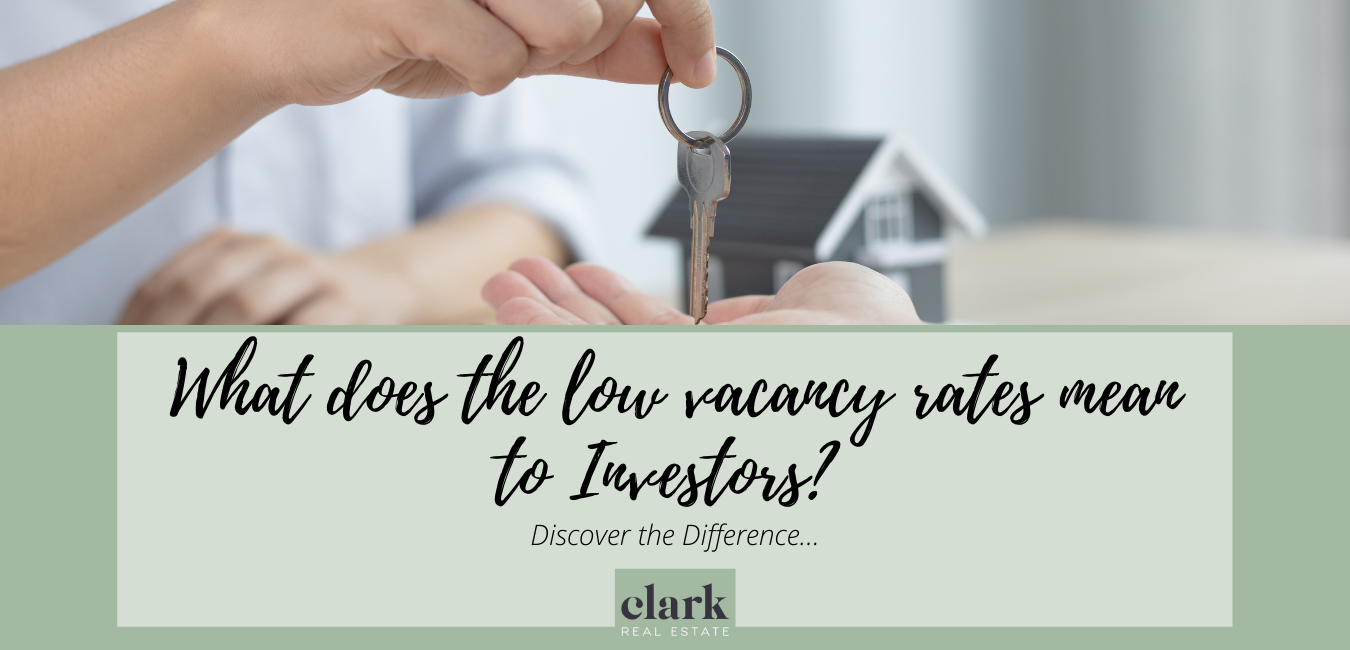 The June 2021 quarter data from the Real Estate Institute of Queensland (REIQ) reveals that 100 per cent of the states vacancy rates continue to remain very low. It also shows 62 per cent local government areas have either recorded their lowest vacancy rate or equalled it over the last 11 years. Clark Real Estate experienced a 0% per cent vacancy rate in the same quarter. With such a tight property rental market the implication is that rental yields are improving, indicating a rise in the real estate sales market. According to REIQ, property investors are needed so rental supply can keep pace with demand. Otherwise, rental affordability will continue to sky rocket.
So, what does this all mean? More people are looking to buy property as owner occupiers as rental rates are no longer affordable when compared to paying off your own mortgage, and more investors are looking to grow their portfolios in order to capitalise on higher rental yields.
But what does the vacancy rate measure? The vacancy rate is a statistic used to measure the number of rental properties that are untenanted and on the market at any one time. It is expressed as a percentage and is calculated by dividing the total number of rental properties by the number of rental properties listed for rent. For instance, if there were 1,000 rental properties in an area and 50 were listed for rent, the vacancy rate would be five per cent. Most property data organisations compile statistics monthly so to be considered vacant a property generally has to be un-leased for three weeks.
Why should investors care about vacancy rates? Weekly rents are largely set by the laws of supply and demand. The vacancy rate is considered one of the best barometers for measuring where the balance between supply and demand lies.
A low vacancy rate usually shows there are a lot of people looking to rent compared to the number of properties available. This means there is greater competition for those properties that are on the market and the power lies with the property investor. As a result, landlords and renters could expect rents to start increasing.
If vacancy rates stay low for some time and it puts pressure on rents, this can often also have an effect on sales prices. That's because more investors begin to enter the market, looking for a return on their money.
A high vacancy rate shows that tenants have a lot of properties to choose from and can be more selective about what they choose. It also gives them more power when it comes to negotiating the rent. This can have a flow-on effect in the market and rents could start to fall more generally.
Most property investors consider a rate of around three per cent to be an average vacancy rate and the sign of a neutral market.
What does low the vacancy rate in Brisbane mean? If you're a property investor, today's low vacancy rate means you're likely to be able to be more selective when you're screening for a tenant. If there is enough competition for your property you may even be able to command more rent. We have already seen rents rise across the board and in certain instances seen property values increase.
On the flip side, if you're a tenant looking to rent, it's important that you put your best foot forward. Make sure you have all your ducks lined up before you inspect property – that your referees and finances are in order. That way, when the right property comes along, you'll be ready to pounce.
At Clark Real Estate we provide a complete property management service focusing on Integrity, Efficiency, and Communication. Our mature, experienced, and competent property management staff will provide you with honest consultation and make sure your needs are always met. If you looking for a property manager that deals in honesty and fairness but still gets the best results for your investment property, then contact Clark Realty's property management team to obtain a FREE, no obligation consultation for your property management.