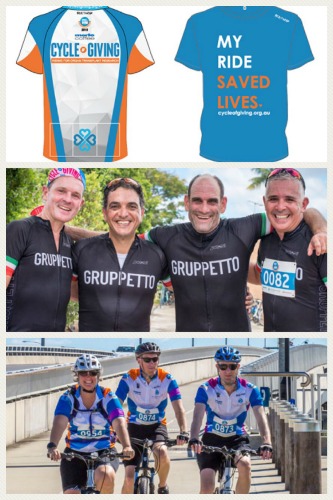 The Cycle of Giving is The Prince Charles Hospital Foundation's annual ride, raising funds for organ transplant research. We are proud to say Australia's largest cardiothoracic hospital, The Prince Charles Hospital, located in the Northern Suburbs of Brisbane is the leading hospital in this vital field. They are literally bringing hearts back to life, among other organs that, quite simply life cannot function without.
Facts Of Interest In Organ Transplants
* Australia is a world leader for successful transplant outcomes.
* Around 1,400 people are on Australian organ transplant waiting lists at any time.
* In 2017, 510 deceased organ donors and their families gave 1,402 Australians a new chance in life.
* In Australia approximately 60% of families give consent for organ and tissue donation to proceed.
* Procedures performed in Australia in 2017 were as follows: Kidneys 832, Livers 281, Hearts 98, Lungs 206, Pancreas 51, Intestine 1 Total 1,469
CCRG
The Critical Care Research Group (CCRG) unit is based at the Australia's largest c and utilized the huge potential of integrating technology and biology in combating cardiovascular disease. The group is a multi-disciplinary team consists of clinicians, scientists and engineers. It aims to improve understanding and better technologies to improve the outcomes of transplanted organs and mechanical assist devices (MADs), used by clinicians in the management and treatment of cardiovascular disease.
The Cycle of Giving
In 2018 the ride has a new route, starting and finishing at the James Drysdale Reserve in Bunya. There will be a family fun day, with lots of activities, food and entertainment. Part of the road will be closed for the kids to ride while waiting for family members to finish the ride. Plus Merlo is giving out free coffee for the start of the ride!
With 100% of the funds raised in Cycle of Giving going straight towards the organ transplant research and technology at The Prince Charles Hospital, every single rider and every single donor has the power to make a huge impact on lives of worthy Queenslanders.
In 2017 alone, the money raised in Cycle of Giving fuelled 4,000 hours of critical organ transplant research. This allowed the hospital to commit to some of the most exciting research being done in Australia.
Our "Owen" Involvement
Owen Malone, one of our Sales Agents, is doing his bit this year and has been training 5 days a week since before Christmas. We would love to spread the word in our community and help Owen achieve his target.
Owen says "It is a really good cause, and events like this really highlight the issue in really positive way. I was motivated both by getting fit and raising funds and awareness for such a vital project. I think one motivates the other, it is a great cause and the great cause motivates you to work harder."
He says his family and friends have been really supportive, "Everyone has been really great, a couple of mates are now joining me on the ride. More support would be great though, preferably in the form of sponsorship."
If you would to help Organ Transplant in Australia and Owen, you can do so now, via this link:
https://www.cycleofgiving.org.au/champion/2018/OwenMalone
Unfortunately, statistics suggest that more and more of us will be touched by a situation that money towards this research can improve.