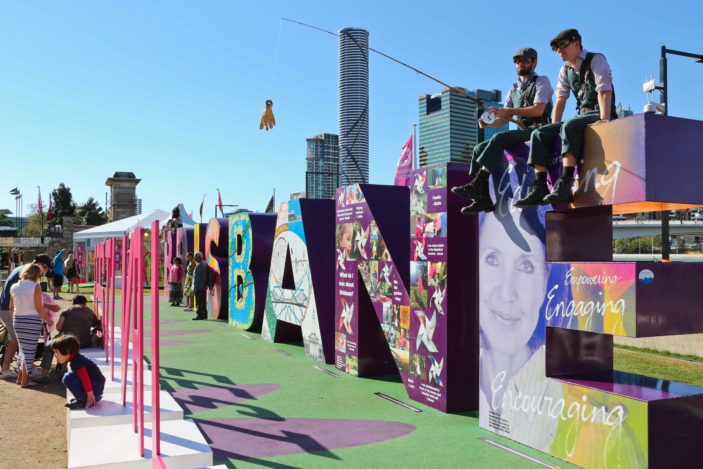 The Ekka is over, Spring is in the air, its nearly September and in Brisbane that can only mean one thing – the return of the enormously popular and increasingly diverse Brisbane Festival.
The festival runs from 8th to 29th September.
Taking place in venues across Brisbane – predominantly the City, South Bank and Fortitude Valley, but also in inner north suburb Kelvin Grove – an estimated one million people are expected to attend the Brisbane Festival in September, drawing the focus onto Brisbane as a capital of culture and the arts.
The Brisbane Festival is a real community driven event, with hundreds of local volunteers donating their time in order to help make Queensland's premier annual arts showcase as successful as possible.
What's happening?
The Brisbane Festival programme is always tremendously varied, with a diverse collection of exhibits ranging from comedy shows and cabaret to art installation,  ballet and movies.
This year, features music artists, Eskimo Joe, comedian Peter Grimes, Ball Park Music and San Cisco, along with the House of Mirrors, California Crooners Club, Symphony For Me, Yothu Yindi, Jazz on Sunday and much, much more!
For more details about the Brisbane Festival 2018 programme, please visit the website.
Riverfire
Ever since the Brisbane Festival merged with RiverFestival in 2009, the extravagant Riverfire firework display has brought the Brisbane Festival to a dramatic conclusion.
Tens of thousands of revelers pack onto every possible vantage point along the Brisbane River to witness one of the most spectacular fireworks displays of the year, after first being wowed by a series of acrobatic displays from Australian Defence Force aircraft.
This year there will be a massive day-long concert headlined by Violent Soho and Channel Nine coverage on the big screen. Make sure you get in early to secure your spot!