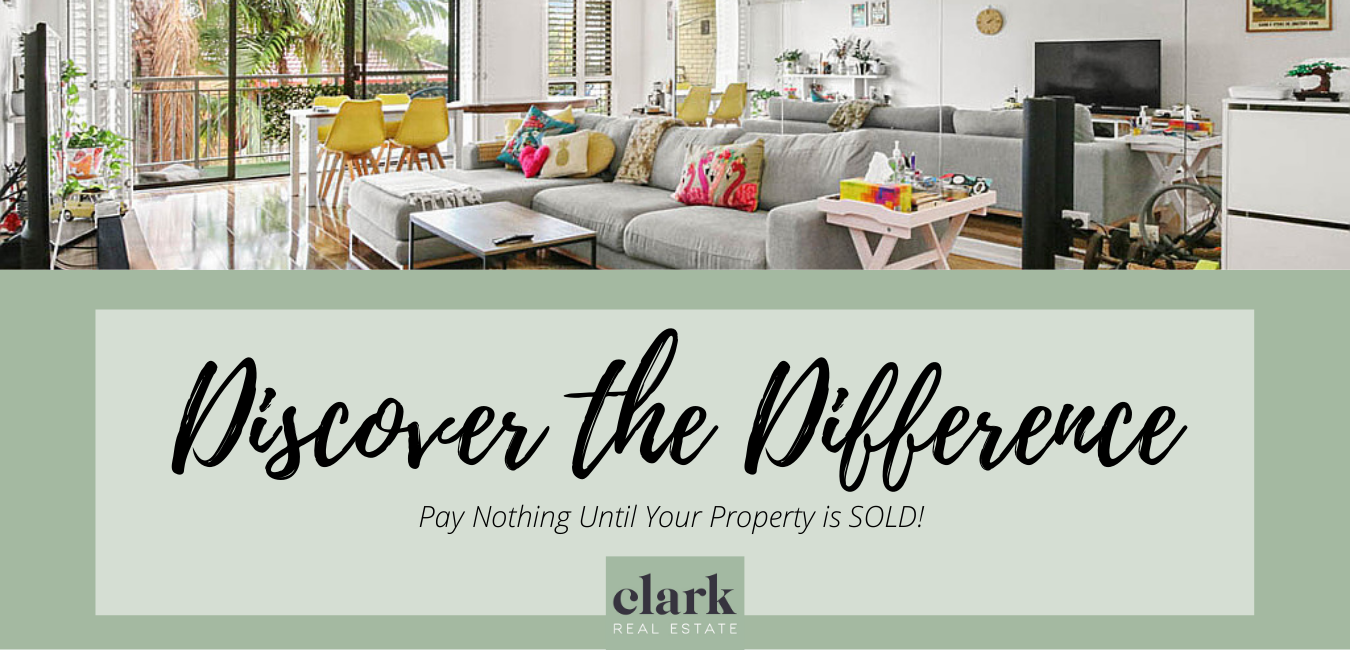 Clark's Discover the Difference philosophy truly embraces the concept of no upfront costs on every level of our fee structure. With our completely Risk Free Option, not a penny will leave your pocket until you're happily SOLD and the property has settled! 
While many agencies will advertise that you will only pay once you've settled, what you'll be surprised to find is that they are mostly referring to the commission portion of their fees and do not include the costs of marketing your home.  
Depending on the type of campaign you and your agent decide to run with, the upfront outlay can attribute to a large portion of the cost of selling your home and it will be required before your home even goes to market.  
What Clark clients will experience with the Discover the Difference philosophy is an entirely unique approach to fee structuring.  
By alleviating the upfront financial burden of selling your home you'll find a completely stress-free experience when it comes to selling with us. It's also our way of guaranteeing a great sale because we believe in our Agents and the STRATAGIES that we employ and execute as a TEAM. you can rest assured knowing that we back ourselves wholeheartedly which is why we can offer a true no upfront cost – pay only when you're SOLD option! 
We were so pleased to hear that Sebastian had experienced firsthand how Clark's Discover the Difference provided a stress-free sale environment for its client:  
"It was a pleasure to deal with Clark Real Estate and I would recommend to anyone who wants a team that truly know what the meaning of Customer Service is, and how to exceed customer expectations. 
Mario Lattanzi and his team from Clark have shown their professionalism and willingness to go the extra mile to work for their client. Mario ensured I was kept informed throughout the sales process and was transparent in all his dealings which removed a lot of the stress usually experienced when selling a property. 
A truly exceptional Team!" 
Despite paying nothing up front for marketing Sebastian and all of Clark's clients receive an A-grade campaign that's designed specifically to showcase their property's standout features. 
Within our Risk Free Option's standard marketing fee we've already included the below services: 
A For Sale Sign and the installation

 

Online listings on Realesate.com.au

 

Online listing on Domain.com.au

 

Online listing on the Clark Real Estate Website and Market Updates

 

A feature in Clark's Market Update eNewsletter

 

Social Media posts

 

Sales Creator techniques including door knocking in the area and calling buyers

 

8 day time professional photos

 

A floor plan creation 

 

The printing, production and distribution costs for Flyers

 
But true to our philosophy of Discover the Difference we're committed to providing tailored marketing plans that can only be fully realised by chatting to a Clark Agent. If you'd like to learn more about how we can deliver a target campaign for you home, please give us a call now!