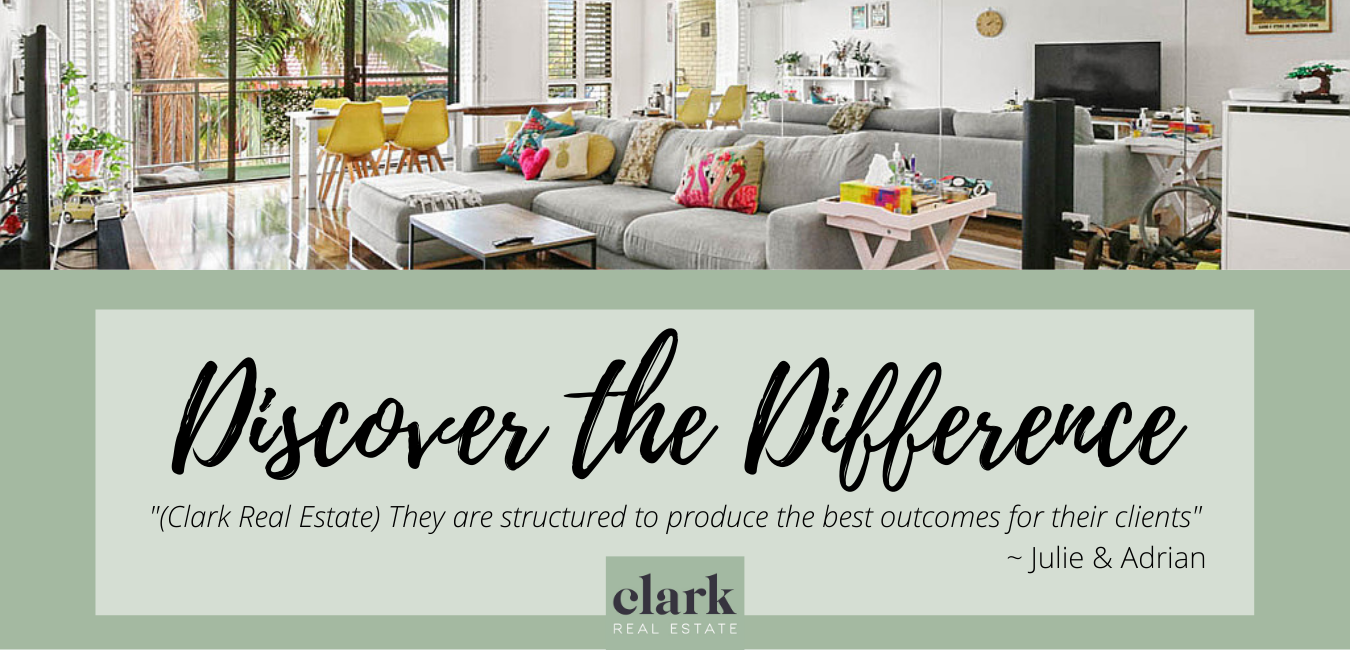 Clark's Discover the Difference is a philosophy. It is the engagement of practical solutions that provide consumers with a choice when it comes to the sale and the management of their investment properties. 
It's also an ever-evolving philosophy. Clark's implementation of Discover the Difference will change with the market and consumer trends, so the services and strategies we employ today will differ from tomorrow.  
Clark Real Estate is focused on providing real estate solutions that challenge typical industry methods. By connecting sellers, landlords, buyers and tenants with strategies that are consistent with them achieving their individual goals, we challenge the norms of what a great Agent or Property Manager is! 
The Real Estate industry must acknowledge its failure to lift the perception, services, trust and competency of the industry over the last 20 years.  
Clark's Discover the Difference is our personal attempt to achieve what the industry is failing at as a whole. A unique approach and attitude towards the success of your property!  
Discover the Difference and means; –  
Paying nothing until your property is SOLD

 

Having a dedicated Sales TEAM behind you

 

Knowing your Agent is a trained NEGOTIATOR

 

Having great MARKETING without the waste

 

Experiencing a tailored sales STRATEGY

 
We'll be going into more detail on what each of the Discover the Difference concepts means for our clients in the upcoming weeks. But one thing you can expect is a personalised plan that's aimed at achieving a great sale or lease at the highest market price. 
But don't just take our word for it! 
Today, we'd love to share some feedback that we've recently received from customers that have felt Discover the Difference first-hand. 
This was how Julie & Adrian Discovered the Difference when they SOLD their home & investment property through Clark; 
"… (Clark Real Estate) and Jordan Cleland in particular – would be our agents of choice in the future. Jordan has been patient, accommodating of several changes of plan or timetable over a twelve-month period, does things thoroughly and properly, and has provided various other services 'beyond the call of duty'. 
We are also impressed by Clark Real Estate's ethics and business philosophy and policies. They are structured to produce best outcomes for their clients." 
Megan Discovered the Difference of a dedicated TEAM on her side as a buyer; 
"Mario and Carmen – you were absolute standouts in all the agents I have dealt with since I started house hunting in January. You were both communicative and genuine and actually seemed interested in helping me find a home in amongst all of the craziness that is the current market." 
Only an experienced NEGOTIATOR versed in the Discover the Difference philosophy could guide Arnaldo through the STRATAGIES that delivered a great result on his property; 
"I have no reservations in providing this testimonial for Mario Lattanzi having received first class services from him and his team. Mario was easy to work with, set realistic expectations in a challenging market and provided regular updates. You always sensed Mario genuinely had your best interest at heart. 
It was a pleasure working with Mario and he delivered, well done Mario!" 
If you can't wait until next week to hear more about how Clark's Discover the Difference philosophy can achieve a great outcome for your property, then perhaps you'd like to give us a call today and chat to an Agent now!