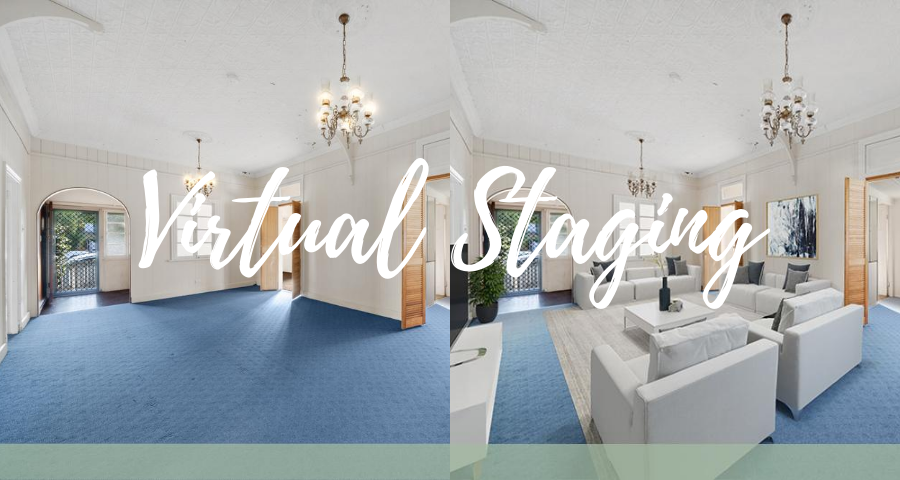 Considering nearly all potential home buyers start their house search online it makes sense to ensure that the online version of your home is at its best as this is the first impression. It could make all the difference to if they contact the agent to book an inspection or not!
So, what is virtual home staging?  It is a type of home staging in which an interior design is created in a graphic editor. The main goal of this kind of visualization is creating highly realistic images of properties where furniture and decorations are digitally scanned or CGI (Computer Generated Image) into the empty photos of rooms in your property.
As virtual staging continues to gain traction, both realtors and homeowners might find themselves asking the question of which staging technique to use. Ultimately, people will first look on the internet when searching for a house. Whilst virtual staging gives you a platform to showcase your home online, physical staging, on the other hand, ensures that the house looks just as good as it did online.
There are two main factors you will need to consider before you make your choice. These are time commitment and cost. Virtual staging is perfect for anyone who what to maximise the appeal for a fraction of the cost and much less time of traditional furniture staging. It is cost effective and low maintenance.
It is important that you keep your staging efforts as close to reality as possible. This means not incorporating structural or fixed elements in the virtual house that the buyer will not find if they decide to inspect.
Additionally, keeping it simple allows the buyers a chance to imagine their own furniture in your house. Therefore, fewer details and a simpler design may actually be beneficial in the long run.
We recently sold a property, 3/66 Wagner Road, using this technique and the results really speak for themselves. The presentation (virtual staging) combined with a winning sales strategy by Jordan Cleland, lead to it being sold within 7 days!!  These results are really impressive for a unit considering the average for a Nundah unit is 71 days according to https://www.yourinvestmentpropertymag.com.au/top-suburbs/qld-4012-nundah.aspx!
Check out these before and after pictures of properties that have been virtually staged to see the difference it can make.
If you are looking gain more traction on your listing but want to keep a tight budget and manage your time, then you should consider utilising virtual staging.
Both virtual and traditional strategies have the same goal so when used together you are likely to get best outcome possible. It all depends on your budget!!
Interested in knowing more about virtual staging? Contact us to learn how we can help you get the best price for your property!