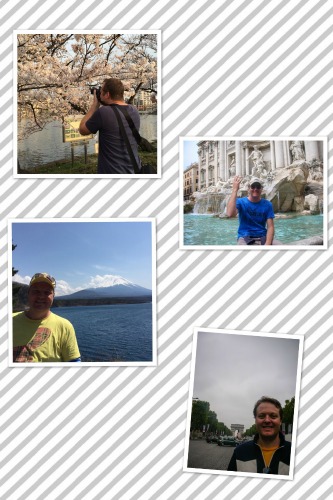 A country lad at heart, Dean was born and raised on a farm (well… he was not literally born on the farm, rather the hospital) 🙂 . He was raised on a farm on the Western Plains of NSW, 25 clicks outside of Dubbo. As a young lad his interests included building cubby houses, catching yabbies with meat on a string and general riff raffing around the 250 acres of backyard he and his brothers enjoyed.
Moving to Brisbane in 1988, Dean was excited by the prospect of electric moving stairs and fireworks over the city every night due to the massive event that was Expo '88. He was bitterly disappointed as this new found wonder was only short lived and school quickly crumbled his illusions of grandeur.
After finishing his schooling in Ipswich, Dean studied Environmental Science at Griffith University. Upon completing his Bachelor of Environmental Science in Ecology & Conservation Biology he moved to Sydney he worked with North Sydney Council looking after the parks and gardens along the northern coastline of Sydney Harbour, including Berry Island, Balls Head and Cremorne Point. Continuing his love of the outside world he then took on a role as a Bushland Regenerator, looking after the natural environment areas of Coogee Headland, Maroubra Beach and the Northern Beaches of Sydney.
Eventually Sydney was just too much for this little country lad and he moved back to Brisbane to be closer to family. It is here that a career change happened and he began working in the music industry in Ticketing & Event management. Dean has worked on some of Australia's largest music festivals including The Big Day Out (GC), Splendour In The Grass and Soundwave. He has also had the pleasure of escorting bands such as De La Soul, Hilltop Hoods and the Wu Tang Clan around the great city of Brisbane. The music lifestyle took its toll on Dean and he decided a change of pace was needed.
It was here that he started his own small business specialising in Medical Goods Delivery. For the next 6 years Dean helped people to walk again by providing the medical instruments and implants for spinal surgeries. Time out on the tarmac become lonely and Dean longed to be part of a team again. Choosing Property Management as a new career, Dean landed at Clark Realty and is already enjoying his time at this family company and is looking forward to providing superior Leasing Management long into the future.
To finish – some things you might not know about Dean:
* He has a miniature dachshund dog called Kransky that is blind in one eye, has scoliosis and a curly tail.
* He enjoys snorkeling, fishing, bushwalking and simply sitting around a campfire with a cold beverage in hand.
* He has ambitions to stand on every continent on Earth, with only Africa and Antarctica left to tick.
* On one holiday he took 6438 photos over a 7 week period. Yes that is a lot of photos!