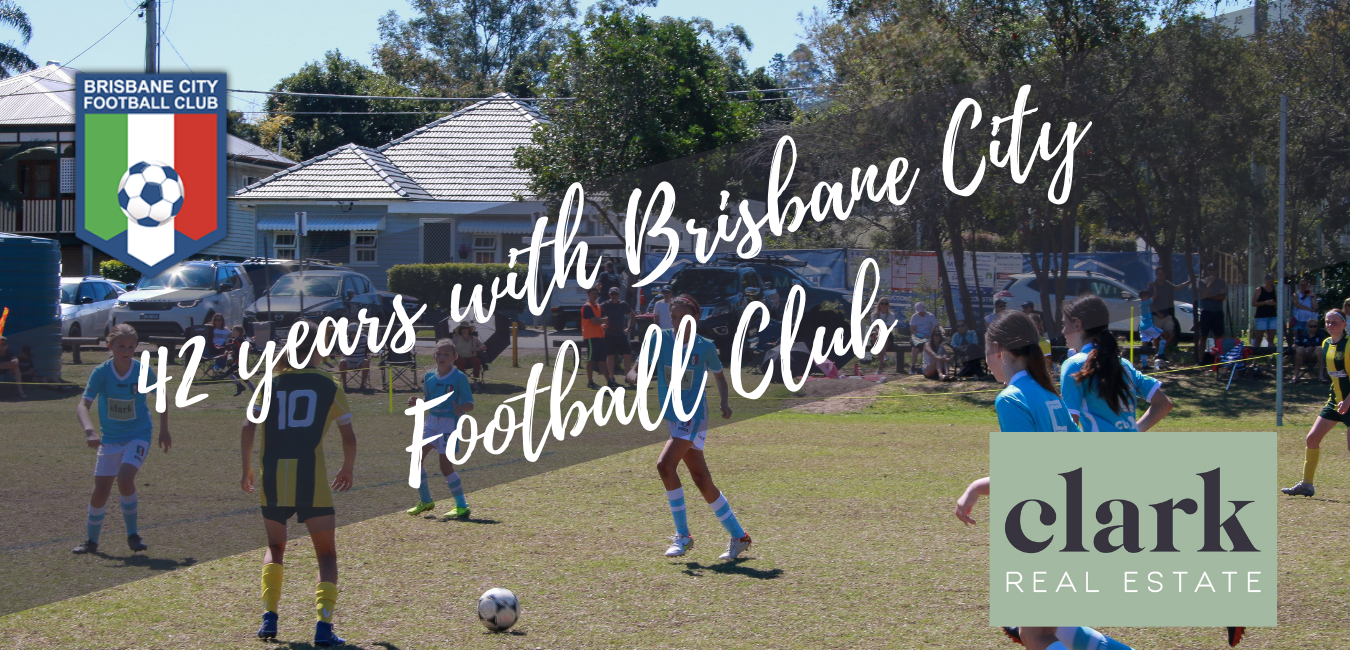 Mario Lattanzi, Principle, Clark Real Estate, has a deep love for the World Game of football (some may know it as "soccer"). Being of Italian heritage, it is almost in his DNA to love and play the game. From a young age, Mario has been an active member at Brisbane City Football Club. Established in 1952, Brisbane City Football Club has a long and proud tradition of sporting achievements at a local, State and National level. While the thrill of competition and victory is an important part of playing football, their goal is to develop good footballers and encourage them to continue a lifelong passion and love of the sport and a pride of having done their best. 
These values have always resonated with Mario, leading to his 42-year association with the club, including playing with both junior and senior teams, a 6-year tenure as a board member and being ongoing sponsors for over 12 years.  
Currently Clark RE is sponsoring the U 12 girls development team. Mario said that "the development of junior players is a main driver for his ongoing support". He went on to say that "it is wonderful to be associated with a girl's program which is growing and developing some exceptional talent".  
Brisbane City Football Club said, "we strive to ensure that the game of football is enjoyed by all, and recognise that only through enthusiasm, commitment and fair play will there be success." 
Mario recognises that football is the World Game and "there are so many opportunities to grow and develop and play a sport which has given me some wonderful memories and lifelong friends" he said. Mario's other passion is business which he channels through his expert knowledge of Brisbane Real Estate. He has been known to draw inspiration from his sporting background to help drive his success in business. "Business to me is a natural extension of sport" Mario says, in fact some of his favourite mantras for success include sporting synergies. "You've got to be disciplined; you've got to train hard. A lot of the stuff that happens in the background on the training field is what is going to govern your results on game day. The unglorified stuff happening in the background where no one is watching is what will determine your success in the front end, and that is the active sales that you make". Mario went on to say that "like in football, you can only be a great footballer if you train… that is the same with sales, you need to train, sharpen you act and hone your skills of what it takes to be a good real estate agent."  
At Clark RE the same our community is our priority.  We commit to putting our clients and their families at the centre of everything we do.  Businesses can make a huge difference in their community, which is why giving back is at the heart of everything we do. Supporting and assisting local charities, organisations, groups and schools has built the foundation of what Clark Real Estate is today, especially our work with BCFC. 
If you'd like to learn more about our current sponsorships and discover the difference at Clark RE, click here https://www.clarkrealty.com.au/contact-us/sponsorships/  or contact us on 07 3256 1600.