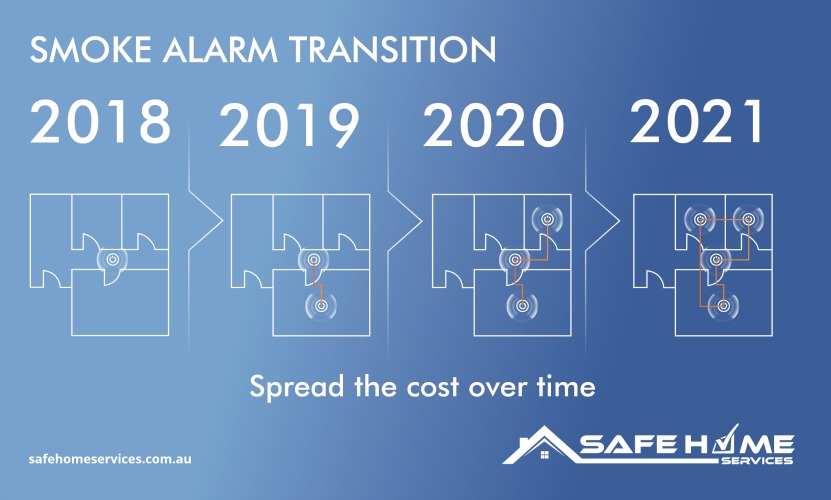 Big thanks to Safe Home Services for providing this information.
www.safehomeservices.com.au
As you may be aware the Qld Government has made changes to the smoke alarm Legislation in relation to all properties with rental properties being require to comply by January 1, 2022.
By understanding the reason for the changes, investors are better equipped to decide on the timing for making the changes.
A complete summary of the upcoming changes is detailed further below this article.
Non-removable battery
As technology improves, so does convenience and expectations. An alarm that contains a 9 Volt battery will 'chirp' continuously as the battery becomes flat. Sadly, in many fatal fires, batteries have been removed from alarms for this exact reason. By introducing non-removable battery that lasts the life of the alarm, this risk is removed.
All alarms must be photoelectric and not contain an ionization sensor
Alarms come in 2 types – Ionised and Photoelectric. The ionised alarms contain a small amount of radio active material and have been proven as less sensitive to smoldering fires. Photoelectric alarms do not contain harmful materials and are most effective in detecting smoldering fires. These are the most common types of fires in a home.
Alarms must be installed in each bedroom, in addition to current areas
It is not uncommon for people to spend time in their bedroom, awake. It is also common that people will watch movies on laptops and use headphones for sound. With a door closed, sound up and headphones on, there is a fair chance that a smoke alarm located down the hall will fail to get the attention of that person, as loud as they are.
By installing the interconnected alarm in the bedroom, that person is far more likely to hear the alarm, to notice the flashing lights and to be alerted.
Interconnected alarms
That is, when one alarm goes off, they all go off.
Technology means this is now possible without requiring the alarms to be hardwired. If your property is currently compliant with battery powered alarms, it is possible to once again install battery powered alarms, with the added feature of a radio frequency chip, which enables alarms to be paired up. This does not require wifi, or power to be connected to the property, and will work in granny flats and multi storeys, meaning that everyone in a property is alerted, if one alarm detects smoke.
All these features are designed of course to save lives, to alert people earlier to a fire. By better protecting the people, your property will also be better protected.
All rented properties must comply with the following by January 1, 2022.
Smoke alarms must be installed on each storey:
· In each bedroom; and
· in hallways which connect bedrooms and the rest of the dwelling; or
· if there is no hallway, between the bedrooms and other parts of the storey; and
· if there are no bedrooms on a storey at least one smoke alarm must be installed in the most likely path of travel to exit the dwelling.
Smoke alarms in all dwellings must:
· be photoelectric (AS 3786-2014); and
· not also contain an ionisation sensor; and
· be less than 10 years old; and
· operate when tested; and
· be interconnected with every other smoke alarm in the dwelling so all activate together.
Where practicable alarms must be placed on the ceiling and must not be placed:
· within 300mm of a corner of a ceiling and a wall;
· within 300mm of a light fitting;
· within 400mm of an air-conditioning vent;
· within 400mm of the blades of a ceiling fan.