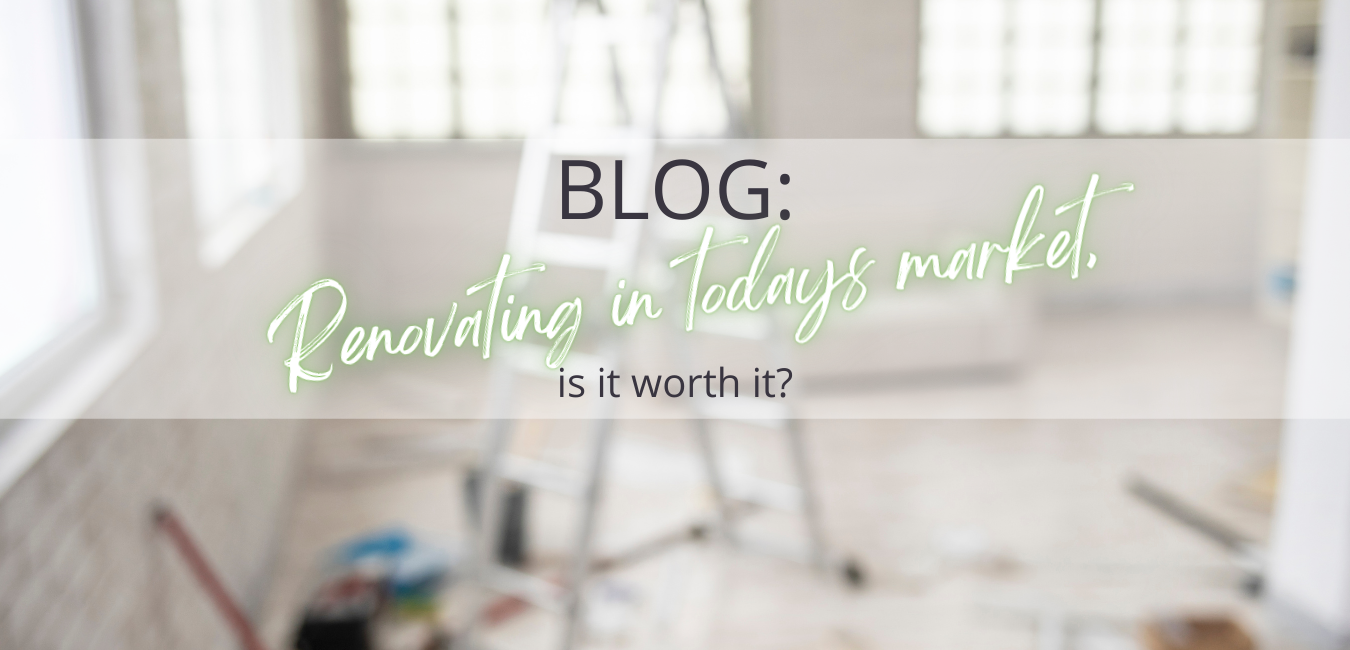 Your home equity is the difference between your property's market value and the balance of your mortgage. With property values increasing and if you've owned your home for a few years, there's a good chance you've built up some reasonable equity in your property. This can be a valuable resource when it comes to property upgrades or looking to add value to an existing investment property. Renovating can be an effective way to create more equity. However, in today's rising market, is it worth it?
On average, in Brisbane's Inner North, properties have risen by around 20% since November 2020. Mario Lattanzi, Principal at Clark Real Estate, has been a salesperson for over 20 years in Brisbane's Inner North, says "what we are seeing is a shift in the marketplace, this shift is being driven by 3 factors 1) inflation driving the RBA to increase mortgage rates 2) more properties coming onto the market 3) rising debt levels. This is being balanced with a significant expenditure from state and federal governments being injected in major projects into SE QLD, which will further stimulate growth. What this means moving forward is it's unlikely that the market will grow another 20% in 2022, but will become a more balanced market with growth as previously seen of around 2-3%".
With this organic growth in property prices, is it worthwhile for property owners, who may be looking to sell in the near future, invest in home improvements or renovations with a view to further increase the property value? "It depends on what the owner originally paid and when they purchased, as with any renovation or home improvement the goal is to manage the risk of overcapitalising. If they bought the property say 10 years ago, prices were much lower so the risk of overcapitalising now is lower, however if they purchased say last year where prices have risen the risk of overcapitalising is much higher. Either way, for property owners who are keen to lift the value of their homes, it is essential to carefully plan and budget for any upgrades they are considering. The key is to make sure you know what adds value, without overcapitalising." says Mario.
Here are our top tips on how to ensure maximum value from a home improvement / renovation;
It is always important to consider your renovations with rental yields in mind. As with investment property selection and purchase, a renovation is all about attracting the best rental yields or bottom-line profits. It is important to keep the prospective tenant's needs at the forefront of any renovation. Annette Clark-Lattanzi, Operations Manager of Clark Real Estate, has 15 years legal experience and 10 years management and ownership experience, says "in the current market, the gains in rental returns seen of late have raised the expectations of the tenants paying those increased rents. A savvy investor is one who sees the benefit in maintaining their investment and securing good long-term tenants and minimising stress for all parties. The reforms we will see come into effect in 2023 will require minimum housing standards to be met and that will mean some investment properties will need improvements made e.g.: does your Queenslander home have secure windows and doors? Many aged homes don't and this will be a requirement". Speak to the team at Clark to start planning and budgeting now not only for the inevitable stick of regulation but to keep ahead of the game and in control.
One of the biggest mistakes of renovating is improving a home well above the average for neighbouring houses. Home prices tend to reflect local home buyer tastes and the amount they're willing to pay. For example, luxury entertainment upgrades probably won't give you a great ROI because they're not necessary for all future homebuyers, and they're also heavily based on personal preference. These are things such as pools/spas, renovations with unusually expensive materials, luxury or upscale kitchen/bathroom designs, in-home theatres, wine cellars, home movie theatres or other highly specialised spaces. The only exception is if you live in an extremely high-income area. Then it's possible that some of these spaces will be expected or common for homes and the ROI won't be as low. However, if you live in a low-income or medium-income area, these spaces will provide little to no ROI, because future home buyers will not be willing to pay for them. A general rule of thumb for bottom ROI projects: purely aesthetic or entertainment-based upgrades with no extra square footage will not add value.
Bigger is not always better! Being able add value with minimal cost is the best way to maximise ROI. There are several small-scale improvements you can do yourself to instantly lift its' value. A fresh coat of paint, a deep clean, and updating door handles and light fittings can make a world of difference to worn-out interiors as well as increase the appeal of a home. Outdoors and gardens can be improved with a selection of new plants, bark and the grass areas fertilised, as well as power hosing cement / tiled areas to bring it back to a fresh clean feel. Re-grouting of wet area tiles, replacement of old appliances and fresh window coverings can transform the appeal of a property. For the slightly more costly updates, historically and on average, certain projects, such as the addition of a wood deck, kitchen and bathroom upgrades, and window replacement, have shown the greatest ROI regardless of the property's location or the state of the residential property market.
Do your research and get comparative quotes. It is easier to go with the first option, but you can literally save thousands if you shop around especially when looking at kitchen and bathroom upgrades. Off the shelf vs custom build, jump on line and see if you can get a better price using multiple suppliers. Project manage the upgrades yourself, using contractors as needed. And most importantly plan your budget carefully allowing for anomalies and make sure you stick to you!
If you want to see how we can help you achieve your property goals, contact us on 07 3256 1600.