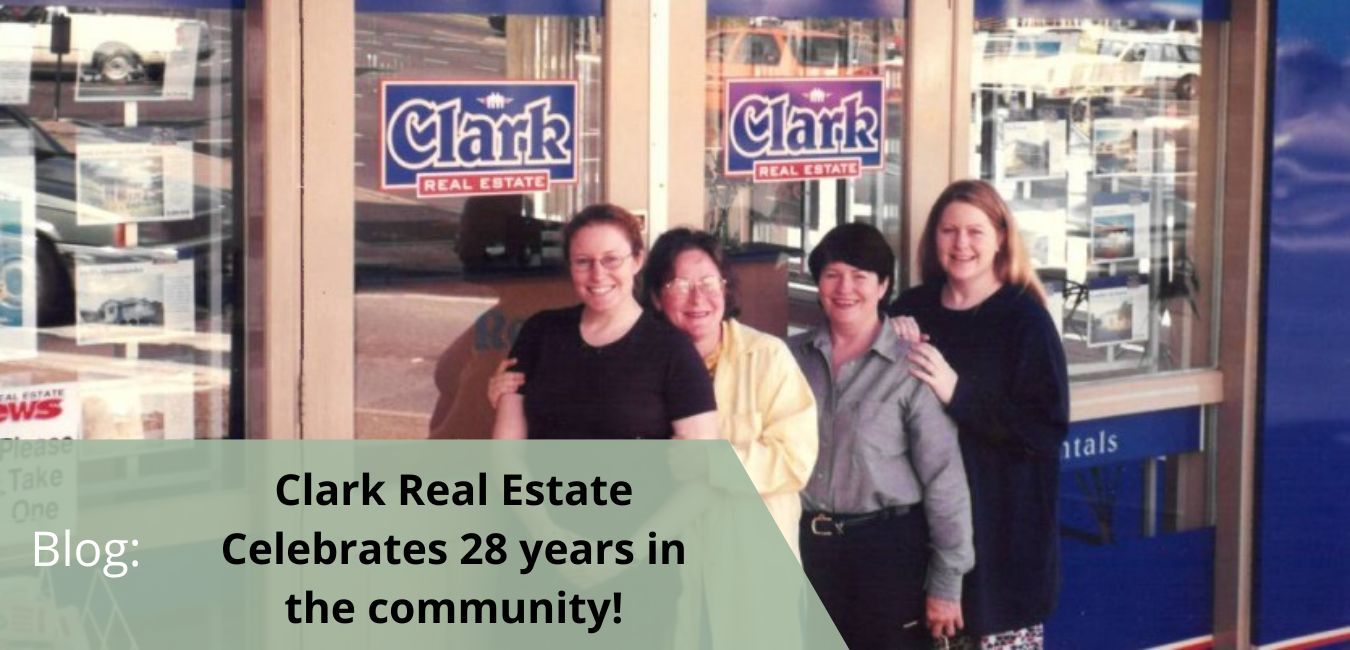 This year we are celebrating 28 years of Clark Real Estate! That's right for 28 years Clark has been servicing the inner north of Brisbane. Helping people buy, sell, rent and move! Over the years almost everything has changed. From the way we advertise property, to legislation, ways of doing business, and the speed of doing business. Two things will never change though; people all need somewhere to live, and people will always need help with real estate matters.
In honour of our 28th year we thought it would be fantastic to share a little bit about the Clark story and how we have evolved as a business over the years. Clark Real Estate was founded in 1994 by John and Ruth Clark. The original office was actually a First National Real Estate office on Buckland Road in Nundah.
After some time, they decided that the franchise business model was not for them and they went out alone! John and Ruth decided that instead of paying the franchisor they wanted to build their own brand. With their own values and their own community awareness and understanding. They saw more value in getting to know the people in the area and how best to serve them. They setup values that they wanted their company to embody;
Fairness

 

Honesty

 

Sensitivity &

 

Competent Actions

 
Values that we run our business by even to this day! In fact, if you are in the Clark office today you will see them plastered all over the place! 
Fast forward to 1996, John and Ruth had made their vision a reality! The business had moved to Clayfield on the corner of Junction and Sandgate Rd, now simply called Clark Real Estate! Some years earlier Mario Lattanzi and Annette Clark (The daughter of John and Ruth Clark) had met while studying at Queensland University of Technology (QUT). They didn't know it then, but they were destined to get married and take over the Clark family business!
After finishing university Mario worked in marketing, he worked as National Brand Manager for several fast-moving consumer goods (FMCG) companies, including Glad and Century Batteries. This made his jump into real estate quite easy!… Or so he thought!
Mario joined Clark Real Estate in 2002 as a junior sales person. As he recalls the start was a hard and bumpy road but he soon came to know where the bumps and potholes were. After working in the business for some years Mario and Annette decided it was the right move to buy the business and keep it in the family, and soon it was a reality! In 2008 Ruth had decided to retire at the age of 70, so Mario and Annette bought the business. This was the year that Mario Lattanzi became the principal of Clark Real Estate!
While working as junior sales people at Clark Real Estate, Mario and Jordan Cleland first met. Jordan eventually became one of the partners in the business. But not before Jordan decided he wanted to take a break from real estate and pursue other things. Mario tells the story of how he would routinely try to convince Jordan to come back to real estate. It took a few years but Jordan eventually was convinced and re-joined Clark Real Estate in 2011. Jordan recounts that it is one of the best decisions he has ever made. He got his freedom and financial independence, and in 2013 he bought into the business and became a partner. Together Mario, Annette and Jordan continued to grow the business. Until they were bursting at the seams and ready for a bigger office and a rebrand! 
In 2017 they moved from the Clayfield office to the new office on Lutwyche Road! Where the business remains to this day. The business has grown to employ some 15 fulltime staff and 17 casual and contract staff. Clark Real Estate has sold north of 5000 properties over the life of the business and has managed a few thousand different properties on its rent roll at different times! 
When asked what he is most proud of in the business. Mario said "I am proud of the fact that I am an incumbent owner and principal. I was able to buy a good business with good values and grow it. For me the icing on the cake is the culture we have built, and watching people grow in their roles in the business." He went on to say that "My favourite business activity is still listing and selling properties, I still get the same kick and fulfilment out of a job well done as I did when I sold my first listing!" 
Mario stated that "The biggest game changer in my real estate career was the internet, online marketing and portal sites like domain.com and realestate.com. We were all of a sudden able to reach all potential buyers in one go, it was incredible at the time!"
This brings us to the present day, where Clark Real Estate is celebrating another milestone in a sea of many more to come! We owe it all to the community and our team for a lot of hard work over the years!
Thank you for supporting a local independent success story!